"We focus on strengths and long-term solutions to tackle these cycles of harm and inequality."
What is your organisation working to achieve?
We're working to make a positive life possible for some of Scotland's most vulnerable people. This is crucial not just for the people we work with, but for us all.  Reducing inequality can cut crime, the rate of addictions and improve people's health.
We believe no one should be left behind because they are struggling with adversity, harm or vulnerability. That is why we are supporting people to gain life skills, stability and confidence in order to make a happy, healthy life a reality. We're committed to partnership to deliver our best work and achieve greatest impact for those we support. We work collaboratively with a range of local and national statutory and third sector partner and referral organisations, to reach people in need.  Strong partnerships with a joined-up approach ensure we maximise opportunities and minimise duplication of services.  
Where are you focusing your support right now?
We know COVID19 hasn't treated everyone equally. Those living in poverty are more widely impacted. Those who already faced trauma are more likely to have had crucial services cut. These are the people we are focusing on in recovery.  
From April last year until now we've worked with almost 500 people. In this latest lockdown we are continuing to ensure support is available for those accessing our services, whether that be through regular phone calls and online channels. We are also providing face-to-face support for the most vulnerable people who do not have other means of support and cannot access support remotely, or where necessary to conduct a court assessment.
The nature of our support has adapted in response to COVID-19. Over the last year we have used new digital channels to remain an available and trusted source of support and advice to help people who were already struggling.
Our Employability Hub enabled us to continue supporting people towards work. We are now doubling capacity in our Employability team in response to the pandemic's impact on employment, particularly for young people. 
Similarly, concerns around wellbeing – particularly poor mental health exacerbated by the impact of the pandemic – led to last year's launch of a Wellbeing Hub offering counselling support to some participants.  This year, we will be building on our way of working in greenspaces to further harness the therapeutic power of the outdoors across all our core programmes as well as through a dedicated Outdoor Therapy counselling service.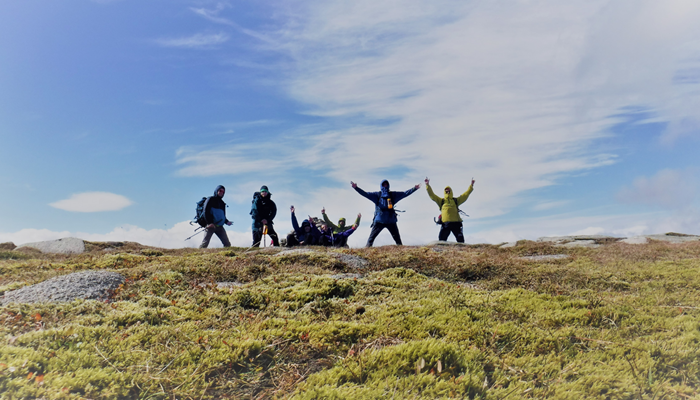 How do poverty and trauma figure in your work? 
We see it every day.  People struggling in poverty, with severe and multiple disadvantage blighting lives and curtailing aspirations and futures.  Those we support were already struggling before the current pandemic.
We recognise the lasting effect of trauma and inequality on their wellbeing and life chances.  Our support sits alongside that of other specialist services because trauma never comes on its own.  We see its symptoms like addiction, criminal history, or homelessness in those we support, symptoms which are often spotted before the trauma is recognised. That's why support must take all symptoms into account.
These symptoms are the barriers to potential that we work to overcome. Our approach is to build trust by listening and seeking to understand.  Over 60% of those we work with are 25 and under, and evidence has shown that a positive, trusted, adult relationship mitigates against the adverse affects of childhood trauma. Therefore, our support is person centred, trauma-informed and holistic to identify specialised additional support where required (for example to deal with specific symptoms).  We focus on strengths and long-term solutions to tackle these cycles of harm and inequality.
As a result, the people we support increase their resilience, confidence, and wellbeing.  Their stability improves and their risk of re-offending reduces.  Over 80% of participants improve their employability. 
However, we now face a huge challenge with the socio-economic impact of the last year and rise in unemployment – for example, Scottish youth unemployment climbed 7.1 per cent from January to 14.5 per cent at the end of July.  Our teams have already been supporting several young people who lost jobs at the start of lockdown. 
Investment and pre-employability support is more crucial than ever for those we work with, particularly since we know that employment is a key protective factor against poverty.
How can funders support your work? 
More flexible, longer-term funding, such as The Robertson Trust's new strategy offers, is vital – particularly at this time, and should be based on trusted partnerships and clear accountability.  Multi-year funding supports capacity building, sustainability and, crucially, reflects the nature of sustained change rather than a quick fix.  This should include investment in improvement work – whether that be digitalising, updating, or implementing system and process improvement. Addressing data poverty and accessibility should also be prioritised.
Going beyond just funding, it is encouraging to see funders shift to a more collaborative approach, creating communities of practice and facilitating shared learning between organisations to accelerate development.  Funders' investment in research and evidence bases for the work they support is also extremely valuable - The Hard Edges report commissioned by The Robertson Trust and Lankelly Chase is a great example in the context of Venture Trust's work. 
We want to see funders focus on outcomes and supporting a change agenda to back organisations which deliver impact effectively and efficiently.  This should be underpinned by more proportionate gathering of evidence and data sharing to reduce the impact for people and organisations.  We are currently assessing people to the point of damaging trust, and eligibility criteria often requires people to recount past trauma.  This needs to be more proportionate and rights based.
What changes would you like to see in your area of focus during the next five years? 
At both local and national level, we want to see a greater preventative spend focus, which seeks to deliver outcomes which are meaningful to improved quality of life and more effectively assess the impact of policies and associated programmes and investment.  An agreed and shared approach to defining what success looks like is crucial so we can understand what works best and then tailor to specific community or locality needs.
More investment, recognising that needs are changing just as the world of work has fundamentally changed with the impact of Covid-19.  We need resources to meet need and to ensure organisations, holding trusted relationships, can continue.  Practical steps to create better commissioning which is developed through co-production and from the voices and experiences of intended beneficiaries and key stakeholders should be the gold standard.
In particular, there needs to be fewer weaknesses in transitions between services and in accessing support – reduced waiting times, easier to identify support – which are appropriately sequenced and of proportionate intensity and duration for individuals to make sustained, positive progress.
What long-term system changes would best address the issues?
Venture Trust has over 30 years' experience working with people struggling with poverty and trauma, and the resulting multiple complex issues which result.  Our experience, particularly from observations of working with individuals who have offended, is that the approach needs to be highly preventative.
We would like to see more investment in youth work services and a range of activities and services to provide safe, nurturing and fun places for children and young people.  Positive adult roles models able to be trusted supporters.
Alongside a focus on academic achievement, blended learning and development for children and young people which emphasises life skills, empathy, and resilience.  More outdoors!
A commitment to ensure that no young person is out of work and not in education or training for longer than 6 months to minimise future scarring and long-term reduced earning potential.
Finally, and more widely, a decent living wage and fair work to tackle in-work poverty and a social security system which enables people to manage transitions when unable to work, so they're not having to choose between food or heating.
How Venture Trust's work fits with our 2020-2030 strategy
"We have been a long term supporter of Venture Trust's work and seen first-hand the difference its programmes make to young people's lives.
"Through taking the time to build strong, respectful and lasting relationships, the organisation has a strong track record of helping those it works with overcome disadvantage, inequality and other barriers to fulfil their potential.  Having received positive feedback from referral partners has helped to highlight participants' improved interpersonal and coping skills as well as increased motivation.
"Throughout our strategy renewal process last year it was clear just how important education and work pathways are to reducing the risk of future poverty. Venture Trust continue to make a significant contribution to the lives of vulnerable people across the country with the life skills and confidence needed to move onto positive destinations."
Stewart Macgregor
Funding Manager