"By providing a space for people to build their confidence and where kindness is at the heart of what we do, it helps to alleviate the stress of living in poverty and/ or suffering from trauma"
Interview with Bruce Newlands, Chairman
What is your organisation working to achieve?
Our main aim is to improve the mental and physical wellbeing of everybody in Inverclyde and in particular, men's mental health. Although the Shed is open to anyone over 18, it was identified that older men find it more difficult to talk about their problems and tend to suffer in silence, perhaps due to the 'masculine culture' we have in society.  We support men with issues such as social isolation, anxiety and post-traumatic stress. We find that when people come to the shed and speak shoulder to shoulder with each other they feel more relaxed which makes it easier for them to open up about their problems.
Where are you focusing your support right now?
When lockdown happened, we had to close our space and that has had a massive impact on how we support our members. We have had to provide alternatives to in person meetings such as a 'virtual shed', where we use home carving kits to create stuff together via Zoom.
The Zoom calls has mitigated the social isolation to a degree, however it's not quite the same as seeing each other in person like we are used to.  We're focusing on how we can rebuild in the 'new normal' which is largely digital, as we know we won't have access to our building for quite some time.  A large number of our members are elderly who don't have the same digital skills compared to the younger generation, which makes it quite difficult to reach them for support.
We have also focused heavily on our external space such as our community garden and ensuring that our members can still participate in outdoor activities. The mental health benefits from this has been really positive, particularly during lockdown which was quite a challenging time for people mentally.  The community garden has provided a real respite from COVID and created a safe way for people to meet, make, grow and share.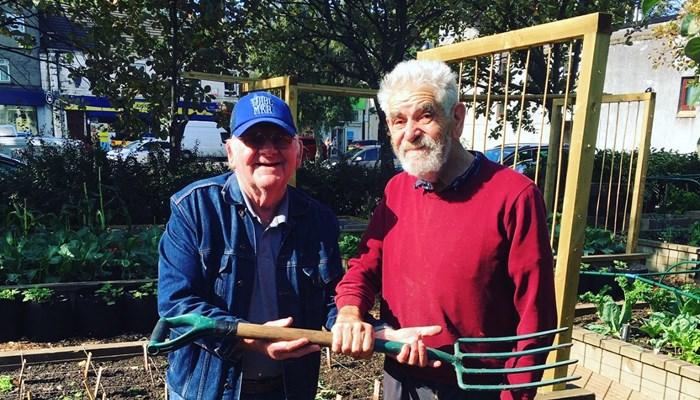 How do poverty and trauma figure in the work that you do?
Mental health plays a large role in the work that we do and the people that we support. A lot of our members are veterans and have a formal diagnosis of post-traumatic stress. We also support men who are socially isolated too. For people who had mental health issues before, the lockdown has had a major toll and we can see this physically on people during our Zoom calls. We are a 100% volunteer organisation, in which none of us are trained counsellors so this can make it tricky when supporting people.  We often draw on support from Scottish Mental Health Association and local support networks in our council where we can refer people to for more further support. 
In terms of poverty, there have always been pockets of severe deprivation in Inverclyde and our main base happens to be located in one of the most deprived areas in Scotland.  We have a few long-term unemployed members at the Shed and also Veterans who have gone into early retirement and now have military pensions, but they are not wealthy by any means.  Inverclyde was also most recently known as 'COVID capital' in Scotland due to having the highest cases of Coronavirus and we suspect this is linked to the poor circumstances in which people live.  Although we don't tackle poverty head on, by providing a space for people to build their confidence and where kindness is at the heart of what we do, it helps to alleviate the stress of living in poverty and/ or suffering from trauma.  If we can help in anyway, we will.
How can funders support your work?
Over the past year we have been very grateful for small pots of flexible funding from funders, which have allowed us to experiment and try out alternative approaches.  We have found that having the time to work on these smaller projects has in turn has built resilience in the people who attend our shed as we have the funding and resource take it that step further.
We have also been fortunate to receive five years' core funding towards our running costs and this has been extremely helpful for us.  Given that we are all volunteers, we don't always have time to apply for funding applications as it can be quite time intensive. Having long term funding secured has eased a lot of pressure from us and has meant that we can now focus on smaller projects for the next five years and perhaps more tactical projects too such as developing our outdoor space and enhancing our digital skills in our older members.
What changes would you like to see in your area of focus during the next five years? 
We are currently going through a Community Asset Transfer and from our experience we think a larger, joined up approach between the Scottish Government and individual funders would help small organisations such as us.  Given both the high cost and time involved in a Community Asset Transfer, we know that we will be relying on a few different funders for match funding and it would make it easier if there was a clearer, shorter route for this process.  It often feels like we are scrambling about and having to think everything through ourselves when perhaps the path could be more readily aligned for us.
What long term system changes would best address the issue?
Our greatest success has been our external space and in particular our community garden in which local people can attend. I think that longer term, it would be great if funders could see the important of funding external spaces in communities, which is particularly relevant now given the restrictions of meeting inside and having to social distance.  I worry now that there are going to be a lot of community buildings lying dormant at the moment, while charities are still having to pay rent and running costs. Having that external space has allowed us to remain open and meet up with each other and there are clear links to mental health benefits from being outside.  We believe that a sustained focus on helping communities transform their external space into something that is more productive for the local community would really benefit urban, deprived areas such as Inverclyde. 
How Inverclyde Shed's work fits with our 2020-2030 strategy
"Men's sheds can help to provide networks, relationships, support and a sense of purpose to people in the local community. Having first funded Inverclyde Shed through our Wee Grants pilot, we are aware of the great work the organisation has undertaken to create a social space that is comfortable for its members, particularly in encouraging dialogue from a traditionally hard-to-reach group.
"Our research and conversations in the development of our strategy continuously highlighted that certain groups are at a greater risk of poverty, trauma or both, including older people. We recognise and trust the insights organisations like Inverclyde Shed have and are committed to supporting work which helps to address this issue."
Hayley Hutchison
Graduate Trainee
Apply for funding
Does your organisation or project support people and communities in Scotland with experience of poverty and trauma? If so, you might be eligible for funding from us.